FEATURE STORY
Kraft Now, Pay Later
It was a cold January 2019. To make matters worse, a federal government shutdown was severely impacting people throughout the Washington, D.C. metropolitan area - an estimated 800,000 federal government workers were not getting paychecks. Kraft decided to step in with a program called "Kraft Now, Pay Later."
The "Kraft Now, Pay Later" program targeted to all federal employees, but especially parents who had the added stress of feeding their families on their savings. The idea was simple: at a pop-up store a few blocks from Union Market in Washington, D.C., federal government workers would be able to shop and take home – for free – a bag full of Kraft products. They needed only to show a government ID. In return, Kraft asked workers to pay it forward (if they could) by donating to their charity of choice or to someone in need once they were able to do so.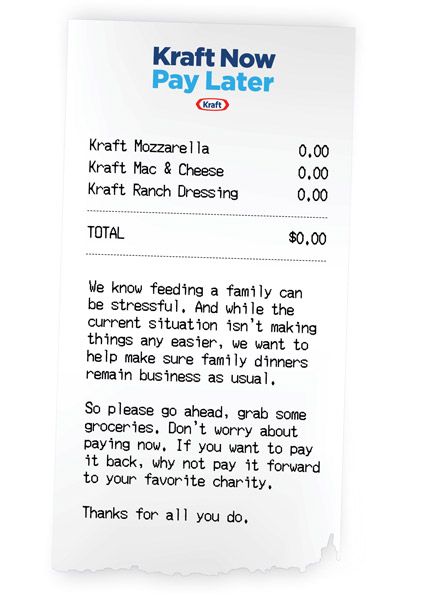 The store offered staples such as Kraft Mac & Cheese, Kraft Natural Cheese, Kraft Singles, Kraft Salad Dressings, Kraft Mayo and Kraft BBQ for dinner tables. In the press release announcing this program, Sergio Eleuterio, Head of Marketing for Kraft, said, "During the government shutdown, parents should not have to worry about putting dinner on the table because they aren't receiving a paycheck. Kraft stands for families and we want to support the families who have built our brands. This store is one way we can help those affected get the grocery staples they need. And we celebrate all who are doing their part to help."
The reaction was immediate. Initially scheduled to be open for just a few days, demand was so overwhelming that the pop-store extended its time to a full two weeks, from January 16 to 27. Total store traffic was 13,167 people, which led to an average of almost 1,200 families served per day. Around 150,000 meal equivalents were handed out. Press and social media loved the concept, and the movement of the private sector stepping in to help government employees caught on quickly. Other companies thankfully joined in, making a huge difference during a very difficult time. Kraft Heinz' quick action and leadership led to a slew of awards, from places like One Show, the International Food and Beverage Association and D&AD, a British educational charity that awards excellence in design and advertising. It was a program that not only made an impact, but it also cut to the very heart of what the Kraft brand is all about – helping out families and helping each other.