Sustainable Packaging
Packaging waste can have a significant detrimental impact on the environment and is an industrywide challenge that we must all do our part to address. That's why Kraft Heinz is committed to taking steps to reduce our operational packaging impacts, as well as to support the move toward a more circular economy and the use of more sustainable materials.

New Goal: Aim to reduce our use of virgin plastic globally by 20% by 2030 (versus 2021).


EARLY STAGE

Create a fully circular Heinz tomato ketchup bottle in Europe by 2022.


COMPLETE


Aim to make 100% recyclable, reusable or compostable packaging by 2025.*


ON TRACK: 84%
Our Approach to Sustainable Packaging
Our comprehensive approach to packaging seeks to meet extensive packaging regulations, aims to cut waste, conserve natural resources, ensure food safety and quality, and satisfy our consumers. Our team of experts collaborates with suppliers and external packaging specialists to design better packaging that incorporates more recycled and recyclable materials. We furthermore partner with a variety of leading organizations and coalitions to explore technical, end-of-life and infrastructure solutions.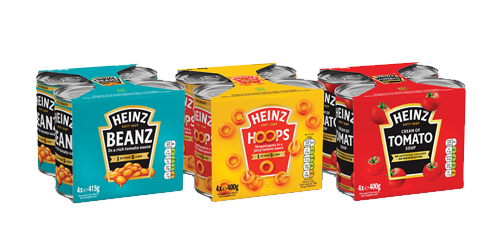 In 2018, Kraft Heinz announced a goal to aim to make 100 percent of our packaging globally recyclable, reusable or compostable by 2025. We've partnered with environmental consultancy group Lorax EPI to better understand how much of our packaging is recyclable, reusable and compostable. The majority of our packaging is paper-based, glass or metal materials that are recyclable. The other portion of our packaging is mostly made up of flexible plastic films or rigid plastic containers. Through 2021, 84 percent* of our global packaging portfolio was recyclable, reusable or compostable. We continue to pursue technical alternatives and more sustainable packaging across key areas of our portfolio.
---
Designing Better Packaging
We consider the appearance, functionality, cost and environmental impact of packaging design, focusing on product integrity through production, distribution, shelf life and end-of-life.
In the U.K., we launched a nationwide roll-out of the Heinz eco-friendly sleeve multipack, a new, convenient, super skinny paperboard sleeve for all its multipack canned products in September 2021. The Programme for the Endorsement of Forest Certification (PEFC) paperboard used in the Heinz Eco-Friendly Sleeve, is fully recyclable and comes from sustainably managed forests. The innovative wrap design uses no glue and 50 percent less material than a fully enclosed wrap-around. In addition, the Heinz Eco-Friendly Sleeve 4-pack design has a nearly 20% lower CO2 footprint compared with the equivalent shrink-wrap design.
Heinz innovative, eco-friendly packaging solution is part of a three- year, £25 million investment and installation at the Heinz Kitt Green facility. It's designed to provide convenience and value to shoppers, while offering a more sustainable solution to single-use plastic shrink- wrap packaging. The design underwent rigorous consumer and pack performance testing to ensure it's comfortable, secure and convenient for shoppers while also reducing the amount of material to the absolute minimum required.
---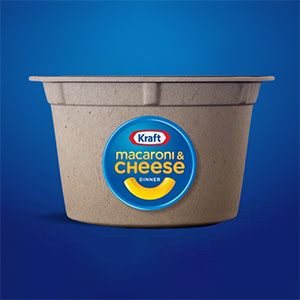 Developing and Testing Recyclable Fiber-Based Microwavable Cup
In 2021, Kraft Mac & Cheese, a beloved American staple, began developing and testing the brand's first-ever recyclable fiber-based microwavable cup. The intent of the design change from plastic to fiber is to reduce plastic use and to be both recyclable and compostable in industrial composting facilities. The innovative cup, slated for a pilot launch in 2022, will also eliminate the plastic label through new direct print technology. Kraft is working with outside partners to certify and incorporate the appropriate recycling labeling to help consumers know exactly what to do with the packaging after they have enjoyed their meal.
Once achieved, we anticipate our fiber-based Kraft Mac & Cheese cups will save 60 million KwH of energy per year, the equivalent amount of energy it would take to microwave nearly 1 billion Mac & Cheese meals, while saving the equivalent emissions of driving a typical passenger vehicle 120 times around the Earth. We anticipate the Kraft Mac & Cheese cups will also eliminate approximately 10 million pounds of plastic per year, or approximately a garbage truckload every day.
* Based on weight of consumer and traded packaging materials. Includes materials that are recyclable (81.28 percent of total), widely recyclable – check locally (2.47 percent of total) and other – store drop off or TerraCycle programs (0.39 percent of total). 2021 calculation covers global packaging and select external manufacturing data. Data from Primal Kitchen is not included at this time.