Sustainability Goals in Manufacturing
Kraft Heinz is committed to reducing its operational environmental footprint. We have prioritized projects across our global manufacturing network in the areas of water conservation, energy use and greenhouse gas emissions (GHGs), waste reduction and packaging.
In 2021, we made positive progress towards all of these goals compared to our 2019 baseline.

In 2021, we made positive progress towards all of these goals compared to our 2019 baseline. We reduced water use intensity by 4.4 percent for all sites, and by 12.2 percent in high-risk watershed areas. We also reduced the intensity of energy use by 5.1 percent, and waste by 14.7 percent. We are confident we have set up the proper management systems (read more about our Kraft Heinz Management system below) and governance structure, while leveraging appropriate resources to keep us on course toward full achievement of our manufacturing goals by 2025.
We continue to recognize the significant environmental impacts an ever-growing world can have, and we remain steadfast to balance production processes that can meet global food demand with efficient operation. Through thorough assessment and strong management processes and routines, we see opportunities for improvement at various stages of our operations, and we will learn from external perspectives, as well as ourselves by continuously fostering efficiency improvements in an environment of collaboration, ownership, and innovation. The Kraft Heinz Management System (KHMS) is a set of standard practices and routines, tailored to advance our operational excellence journey. KHMS is one of the key drivers of our sustainable manufacturing strategy as it guides the implementation of practices to reduce water use, energy use, GHG emissions and waste output. These practices help guide our manufacturing teams to continuously challenge themselves toward our strategic goals and learn better ways of working to improve and sustain their results.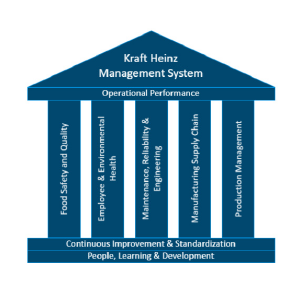 Kraft Heinz Management System
The Kraft Heinz Management System (KHMS) standard practices are organized into eight pillars, each with its specific function but simultaneously interconnected to drive sustainable efficiency improvements. Since adopting this framework, we have completed many innovative and impactful projects across the world, making significant positive progress toward our ESG goals. The following pages describe our progress and examples of successful projects across each of our environmental goals.