Diversity, Inclusion, & Belonging

50% of our global management positions will be filled by women by 2025.


ON TRACK 39%

30% of our salaried U.S. employee population will identify as people of color by 2025.


ON TRACK: 26%
Corporate Highlights
At Kraft Heinz we choose to welcome everyone at our table. We choose to be inclusive because diverse backgrounds and perspectives make us stronger, more thoughtful, and more innovative. We believe that our Diversity, Inclusion, and Belonging (DI&B) work helps us to walk in our Company Purpose: Let's Make Life Delicious, and this will make a lasting impact for our employees and the marketplace for generations to come. That is why We demand diversity and commit to not only listening but to truly working to hear different points of view.
We aggregate these different points of view along with various data points in this space. Hence, data-driven plans continue to be established for our leaders to drive diversity, inclusion, and belonging in their teams. We have established strategies to ensure diverse hiring, retention, development, and advancement. We will continue to build upon our foundation of awareness by delivering programming that advances communication skills and inclusive daily habits.
We provide learning and training opportunities to increase understanding and dialogue, including the module in our global program: The Heart of Kraft Heinz, focused on our We demand diversity value. We've provided training for managers on interrupting bias in our Organizational People Review (OPR) process and specific learning experiences for hiring managers. We've continued inclusive leadership sessions for our leadership teams globally.
We strengthened our commitment to a diverse workforce by targeting employee representation that reflects the diversity of the communities in which we operate.
Since 2015, we have established a solid foundation of awareness across the organization and celebrated numerous impactful achievements in the diversity, inclusion, and belonging space. We have been steadfast in educating and training our leaders to be inclusive, creating a nurturing community. We've spotlighted exemplary leaders from all backgrounds and expanded a team of practitioners across our global footprint. We have made significant progress, and we are energized for the long journey ahead of us.
Leading the way is our Global Inclusion Council, chaired by our CEO, Miguel Patricio. The Council comprises executive leadership from across the Company and members of our Board of Directors. The Council creates strategic accountability for results, and provides governance, oversight, and reporting on diversity efforts and initiatives. The Council is also a critical driver in fostering real organizational change, establishing priorities, managing integrated and cross-functional initiatives, and thoughtfully considering how to fully live our Company Values.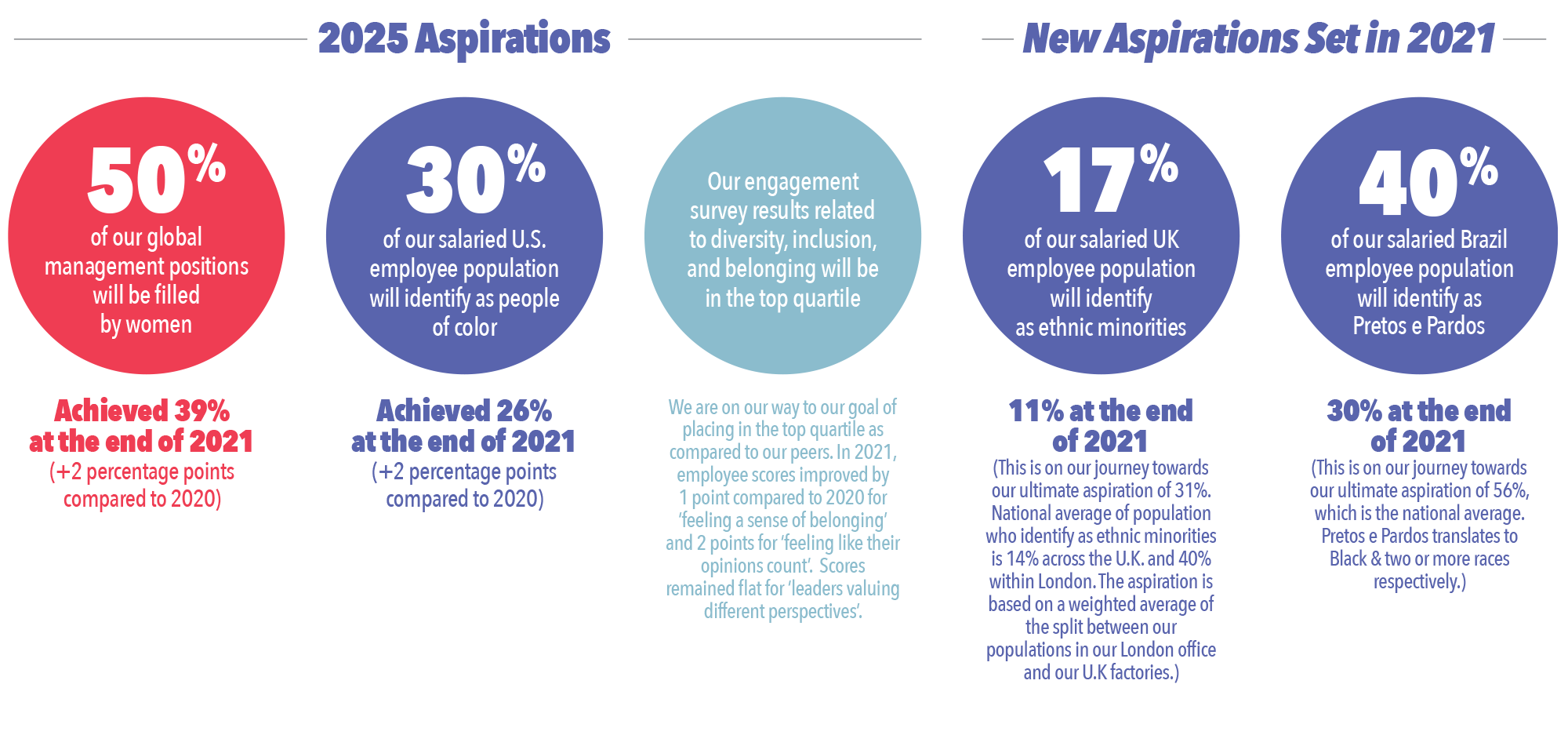 In 2021, the work continued. As we continued efforts to collect data to fuel the creation of global aspirations, we also created governance to ensure data privacy. It is important to us that our employees know that we are using data solely to support the creation of a diverse and inclusive workplace. The Global Inclusion Council heard directly from Business Resource Group (BRG) leaders. We joined the Human Rights Campaign - Business Coalition for the Equality Act, and the Civil Alliance, both in the US, and the MOVER Movement in Brazil. We signed the Workplace Pride Declaration of Amsterdam in the Netherlands and spoke out against Anti-Asian violence. We also participated in the Women in the Workplace Study sponsored by McKinsey and LeanIn.Org and the global Bloomberg Gender Equality Index.
We know a truly inclusive culture allows our people to contribute their unique perspectives and ideas, execute with excellence, and grow great careers. We continue to work toward our stated aspirations, as we know that they are critical to our diversity, inclusion, and belonging journey while increasing accountability.
By year end we had achieved our 2021 objectives, increasing by two percentage points respectively for both our Global Women in Management Aspiration and our US Race/Ethnicity Aspiration. We improved our global engagement score for the "Opinions Count" driver and the "Belonging" driver, moving us closer to our 2025 goal of placing in the top quartile as compared to our peers.
In 2021, we added additional demographic aspirations in the UK and Brazil, a result of collecting self-disclosed data across our global footprint. We will continue to develop more aspirations for countries in which we operate after similar data collection efforts.
Regarding our inclusion aspiration, we will seek to qualify these values and metrics with internal confirmation through our regular engagement surveys, and also through supplemental external recognition.
Creating and Executing a Global Strategy
Following a year of transformational growth in 2020, aligned with our value, We demand diversity, in 2021 we created our multi-year DI&B strategy which identified four key areas: Representation, Communication & Learning, Culture, and Communities.
---
Annual Day of Service
June 18, 2021, marked our second annual Kraft Heinz Day of Service – now a part of our annual calendar. The Day of Service commemorated and honored the importance of the Juneteenth holiday, providing opportunities for employees to participate in virtual and in-person service and educational events. In Canada, we hosted an Indigenous Day of Learning to honor the first National Day for Truth and Reconciliation. Our International Zone hosted multiple Days of Service to contribute locally across our global reach.
---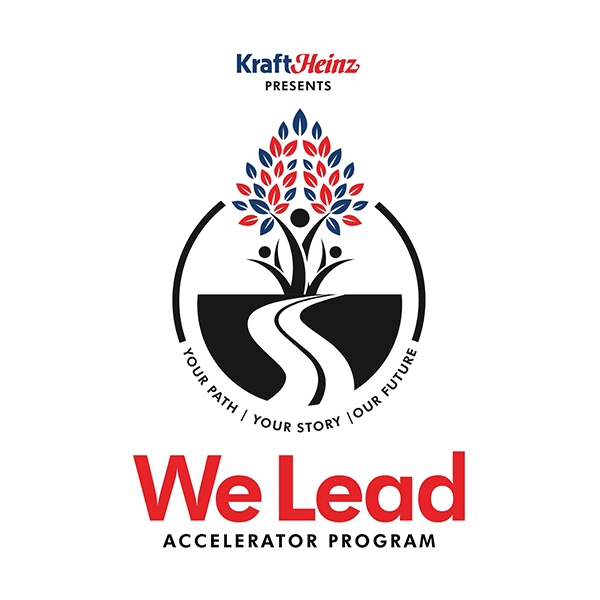 Employee Development
To continue to support the development of our Black employees in the United States, the Black BRG Mentoring Program continued in 2021. We also continued our WeLead Accelerator Program. WeLead was designed to drive accelerated career growth for our employees of color and those who identify as two or more races at the individual contributor level. During this five-month immersive program, 34 participants in the second cohort learned critical business and communication skills, built connections, and activated our Values through our leadership principles.
Launched in 2020, The WE Network, a global leadership accelerator for women at the Associate Director level, graduated it's second cohort of 31 participants in October 2021.
Additionally, 50 globally nominated women participated in Linkage's Women in Leadership Conference. This four-day conference equipped leaders with strategies to overcome the hurdles women often face in the workplace. During this immersive leadership development experience, participants learned from expert facilitators, engaged in skilled building sessions and workshops, and completed an assessment to identify their areas of opportunity. These insights provided participants with actions they can immediately apply to accelerate their careers at Kraft Heinz.
---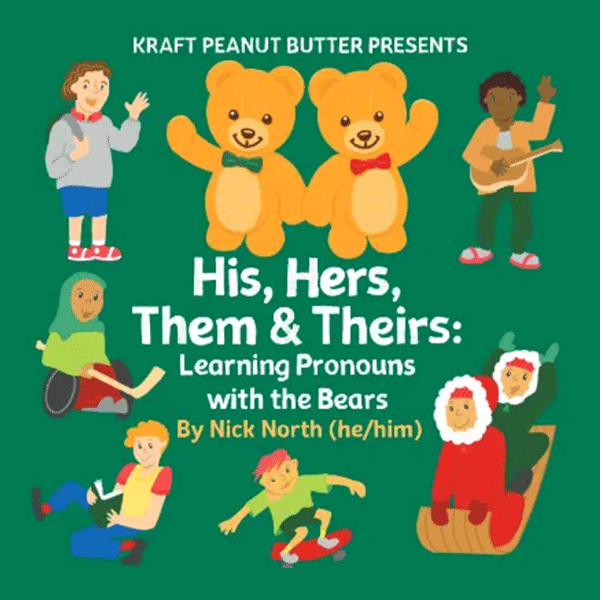 Community Support
In our EAST Region (Poland, Russia, the Middle East, and our Distributors and Exporters across Eastern Europe), employees participated in a Step Challenge raising $100,000 for the protection, gender, and inclusion initiatives of The International Federation of Red Cross and Red Crescent Societies.
In partnership with transgender author Nick North Canada's Kraft Peanut Butter released a limited-edition children's book on pronoun use for Transgender Awareness Week. Along with the book, Kraft Peanut Butter made a $15,000 donation to Rainbow Railroad, a charity that helps persecuted LGBTQ+ people get to safety.
In the US, our Business Resource Groups (BRGs) partnered with some of our biggest brands, Kraft Mac & Cheese, Heinz, and Oscar Mayer, raising over $100,000 to donate to the community organization of their choice. Specifically, we celebrated Pride by raising $34,000 for the Brave Space Alliance, a Black- and Trans-led non-profit on the south side of Chicago dedicated to helping and serving the LGBTQ+ community. The Sabor BRG supported Delimex in raising $8,000 on a fundraising campaign to benefit Heifer International, which allows women and youth farmers in Mexico to have access to education focused on entrepreneurial skills related to selling cage-free eggs, coffee, and honey. In addition, the Black BRG ran a United Negro College Fund (UNCF) campaign raising over $58,000.
---
Recruiting
We remain committed to strengthening our partnerships with organizations that support diversity recruitment. The Kraft Heinz Talent Attraction Team reviewed its partnerships in 2021 to ensure that each alliance was focused to support our goal of hiring talent from diverse backgrounds. Some examples include:
Lime Connect: The largest network of high-potential university students and professionals – including veterans – who have disabilities in the world. Lime Connect also provided Kraft Heinz people managers with training about creating inclusive team environments for employees with disabilities.
National Urban League: An organization committed to finding meaningful employment for underserved Americans.
Lutheran Social Services: Supporting refugee resettlement by connecting newcomers to employment opportunities at Kraft Heinz plants close to refugee centers.
Wounded Warriors Project: Hosted a hiring event for veterans at our Jacksonville plant.
Finger Lakes Youth Apprenticeship Program: Through a partnership with our Avon plant, Kraft Heinz is now an employer of choice for this apprenticeship supporting youth in skilled trades.
Fairshake National Partnership: Demonstrating our commitment to consumer rights, Kraft Heinz is a sponsor and advertises in Fairshake publications nationwide.
WISE (Women in Sales Everywhere): We are the first CPG company to become a networking partner with this organization, developing the next generation of female sales leaders. Our partnership was established in late 2021.
---
Fostering Inclusion
We celebrated cultural diversity through educational opportunities. Various events were held throughout the year, including global celebrations for International Women's Day and Global Pride. For the first time, we observed International Day for Persons with Disabilities, championing our support for the disabled community. Annually, our BRGs engage in a range of events honoring key dates, including Black History Month, Asian Heritage Month, Latin American/Hispanic Heritage Month, and more.
In Europe, we recommitted to the LEAD Network by signing the CEO pledge for another three years. This renewed commitment works toward attracting, retaining, and advancing women in the consumer goods industry. Since first signing the pledge in 2019, we have made positive progress and increased women in leadership positions in Europe by 10 percentage points. Additionally, we became members of Workplace Pride, a not-for-profit foundation dedicated to improving the lives of LGBTQ+ people in workplaces worldwide.
---
Business Resource Groups (BRGs)
Our BRGs are a cornerstone of our Diversity, Inclusion, and Belonging efforts. Entirely employee driven, these groups provide invaluable education, insight, and community at Kraft Heinz. As a highlight this year, our International Zone piloted a new BRG Leadership journey, where we aim to further support our employee networks with personal and professional development opportunities. The pilot cohort consisted of leaders from our UK and Netherlands BRGs.
Our BRGs in the US Zone include:
Asian Pacific American (APA) BRG
Black BRG
Pride BRG
Sabor BRG (for Latino/a/x & Hispanic employees)
Veterans BRG
Women's BRG
Our BRGs in the Canada Zone include:
The DI&B Committee, which has four sub-committees supporting Gender Diversity, Race/Ethnicity, Pride, and Inclusion
Our BRGs in the International Zone include:
Gender Equality Network (GEN)
The 57 (general cultural awareness and employee connection)
Proudz (supporting LGBTQ+ employees)
Reconciliation Reconciliation Working Group - an Australian BRG dedicated to building and delivering a RAP (Reconciliation Action Plan), with the aim to strengthen relationships between Aboriginal and Torres Strait Islanders and non-Indigenous Australians.
Our Value, We demand diversity, continues to guide our efforts across our global footprint and our employees are excited for the opportunity to bring this value to life in new ways. The increase in BRG participation is one of many powerful indicators that our employees are engaged in our diversity, inclusion, and belonging efforts. As a global organization, we are looking forward to continuing to create a diverse environment where all employees feel included, recognized, and supported, with a sense of belonging at Kraft Heinz.
---
Learning
Our Ownerversity learning experiences include opportunities for employees to learn more about diversity, inclusion and belonging. We also deliver several offerings designed to empower employees, develop inclusive leaders, interrupt bias, and foster inclusion and belonging. We offer unique programs, such as The WE Network, a leadership accelerator for women at the associate director level, to ensure we are developing a diverse leadership pipeline. We also collaborate with our Business Resource Groups across the globe to deliver compelling programming that connects employees, increases allyship, and elevates diversity, inclusion, and belonging across Kraft Heinz.
---
2021 Awards & Recognition
USA:
100% on the Corporate Equality Index (CEI) for the 3rd year in a row. CEI rates corporate policies and practices for LGBTQI+ inclusion. Also received the designation: Best Place to Work for LGBTQ Equality
Canada:
2021 Forbes Canada's Best Employers
2020-2021 Fortune Great Place to Work Certified
International Zone:
Fortune Great Place to Work Certified – Russia, Brazil, Italy, Netherlands, Spain
LinkedIn Top Companies List 2021 – Brazil, China
Excellence in Women's Leadership Development – China
100 Employer Excellence of China
Third Sector Business Charity Awards: Charity Partnership - Consumer Goods/Food & Beverage Winner for Heinz Magic Breakfast
Work with Pride Gold 2021 – Japan
Excellence in Women's Leadership Development Award 2021 by 51job – China
Recognized by Lidl & Korn Ferry for our gender-balanced remuneration policy – Poland