A Track Record of Safety
Safety in the Workplace
Kraft Heinz is committed to providing a healthy, safe and secure workplace for employees, contractors and all people who visit our facilities. Safety Management is built into our fully integrated Kraft Heinz Management System (KHMS), combining best-practice safety principles with other operational functions in a continuous improvement framework. KHMS states clear expectations and practical steps to manage risk and avoid injuries, and requirements are expected to be followed in every Kraft Heinz Facility. We track and measure implementation through internal audits, with results reflected in Management-by-Objectives KPIs and Factory Championship rankings. Due to robust site-level implementation, Kraft Heinz improved its safety KPIs over the last year, representing some of the best results among our food and beverage industry peers.
In response to the emergence of COVID-19 in early 2020, we provided enhanced benefits and implemented additional workplace safety programs and processes in all our manufacturing facilities, many of which have continued through 2021. In 2021, we also began a limited return to office for our global office populations with heightened in-office health and safety protocols that followed local regulations. As the circumstances and impacts of COVID-19 continue to evolve, we regularly evaluate our response to adapt and protect the health and safety of our employees, while supporting consumers and our communities.
Total Recordable Incident Rate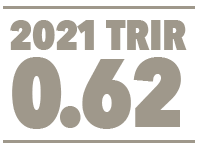 Our compiled worldwide Total Recordable Incident Rate (TRIR) is a medical incident rate based on the U.S. Occupational Safety and Health Administration (OSHA) record-keeping criteria (injuries per 200,000 hours). 2021 saw continued progress in our Worldwide Safety Performance, resulting in a 0.62 TRIR, improving approximately 16 percent as compared to 2020. Kraft Heinz is proud of its safety track record, having delivered year-over-year incident reductions since its inception.