Reduce water use intensity by 20% in high-risk watershed areas by 2025 (per metric ton of product made).


ON TRACK: -12.2%

Reduce water use intensity by 15% across our manufacturing facilities by 2025 (per metric ton of product made).


ON TRACK: -4.4%
Water Use & Conservation
Water is fundamental to all life and business either directly or indirectly. Making high-quality products requires that we begin with high-quality ingredients of which fresh quality water is a key input. Kraft Heinz is committed to water stewardship in each aspect of our business, from our quality controls to the relationships we have with our growers and suppliers. As a food and beverage company, having access to sufficient amounts of quality fresh water, both now and in the future, is critical to our business. Water is used in many areas of our value chain. It is a vital input for growing various agricultural ingredients we use in our products. We also use water as a direct ingredient in many of our products and as a key utility in our manufacturing, cleaning and sanitation processes. Access to high quality water is pivotal for us to achieve our high standards of food safety and quality. High-quality water will continue to be a vital component throughout our value chain.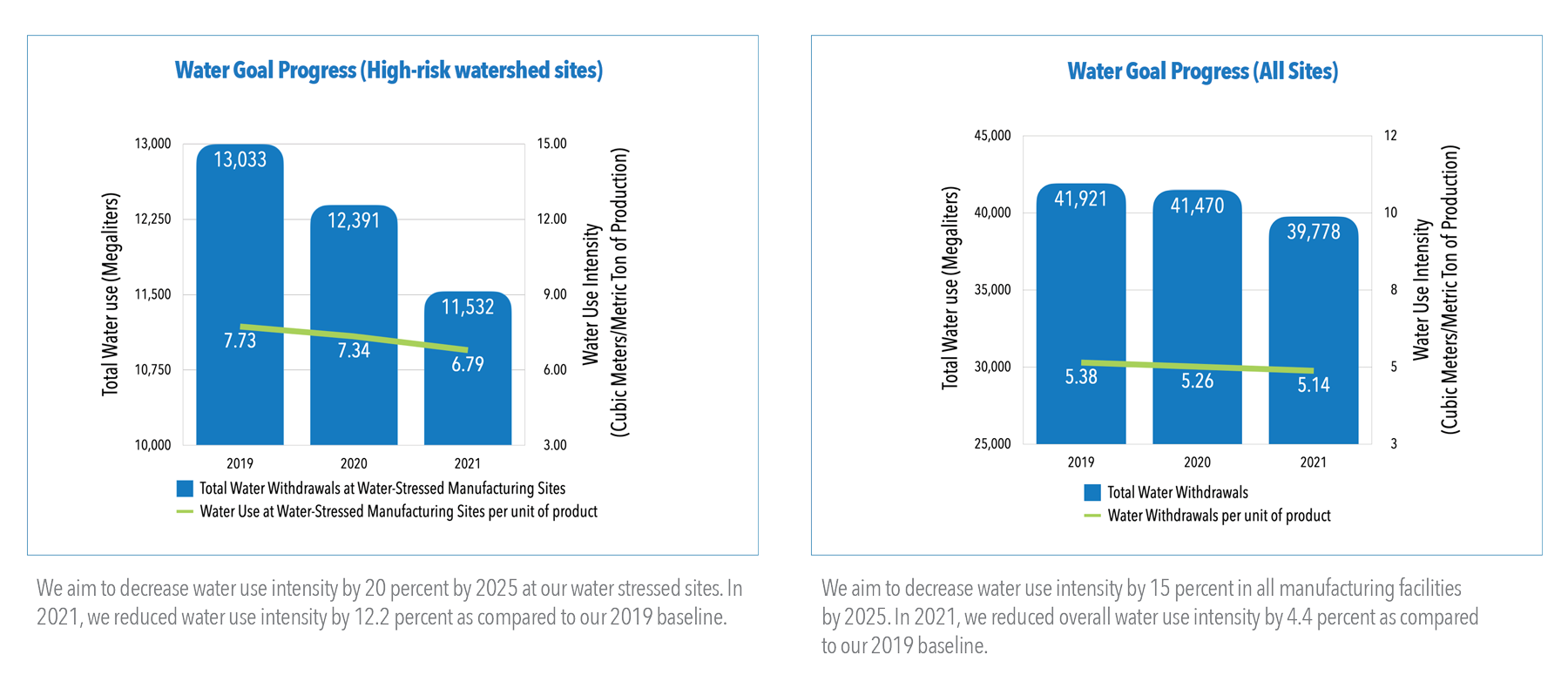 Official Signatory to the CEO Water Mandate
We recognize the significant role we can play as a global food manufacturer in our own operations and through our supply chain in being good water stewards. Kraft Heinz is a proud signatory to the CEO Water Mandate. As we continue to assess and improve in this critical area to our business, and in collaboration with various stakeholders throughout our value chain, we look forward to continue to report out on our water stewardship initiatives and benchmarks now and in the future.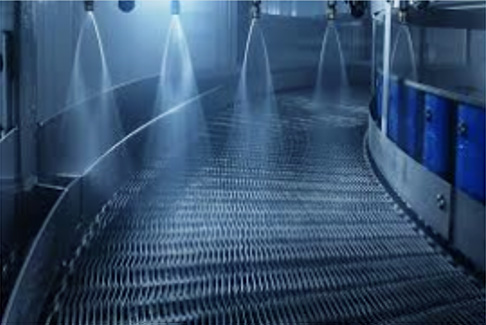 Conserving Water Through Innovation
Our Christchurch, New Zealand facility is a key manufacturer of our Wattie's brand that offers a wide variety of frozen and packaged fruit, vegetables, and other customer favorites. In 2021, the facility successfully reduced water use intensity by 21 percent. The facility achieved this through a series of efficiency improvements, including water recycling systems and increased water usage visibility through better sensor technology, and the use of portable flow meters throughout the facility.
Our Christchurch facility created an innovation to address the large volume of water used to de-ice its blast freezer tunnels and bulk freezer stores. The new process feeds water through its de-superheater system. This heated water makes the de-icing process more efficient as compared to using room temperature water. The upgraded system also ensures that the water is collected, filtered, and used in a secondary process.
Partnership with Ecolab

Over the past few years, Kraft Heinz and Ecolab have partnered closely to help achieve our environmental goals. Together, we have adopted a comprehensive approach to sustainability that includes hundreds of operational efficiency projects at manufacturing sites across North America. – These projects target reduction of the company's water and emissions footprints while ensuring product quality and compliance. Through water reuse, cleaning efficiency and optimization projects, we have conserved millions of gallons of water. These efforts have helped ensure that Kraft Heinz has sufficient water for its operations, while reducing its intake of local freshwater.
Nalco Water is an Ecolab company that has created a unique 3D TRASARTM Technology. This technology has played a major role in boosting water and energy efficiency in critical utility systems, while our Clean in Place (CIP) programs have helped optimize cleaning efficiency to improve cleaning turn-around time, reduce water and energy use and increase production. In addition, Ecolab and Kraft Heinz are working closely to conduct Total Plant Assessment (TPA) audits. These TPA audits provide a holistic, end-to-end review of a Kraft Heinz facility's water and energy use, followed by recommendations for mitigation. This enables Ecolab and Kraft Heinz to continuously identify and drive operational and environmental improvement projects. Four TPAs were conducted in 2021 at Kraft Heinz manufacturing sites. As a result of these projects Kraft Heinz was able to save 193 thousand cubic meters of water, 410 megawatts of electricity and 170 metric tons of carbon dioxide equivalent.
Partnership with Suez Water Technologies & Solutions
We have been working with Suez Water Technologies & Solutions (Suez WTS) over the years to decrease water and energy use across multiple sites.
Starting with a thorough water and energy assessment, we identified areas with leakages, excess water use, energy inefficiencies and opportunities for water reuse.
In 2021, we prioritized the following:
Water mapping for cooling systems in Northgate, Australia: Improved system knowledge and control, reducing water losses of approximately 4 million gallons of water annually (the equivalent to approximately six Olympic swimming pools or the annual water consumption of more than 2,000 households in Northgate).
Optimization of boiler units across multiple facilities: Instituted better control on water quality and asset management of boilers to enhance efficiency, resulting in a direct reduction of CO2 emissions to the atmosphere.
Digitalization initiatives in Christchurch, New Zealand: Invested in better control and automation of our utilities. For example, we increased the performance of our cooling systems to save approximately 3.5 million gallons of water annually.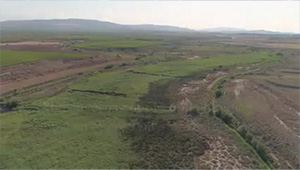 Restoring Local Wetlands
Our Alfaro, Spain site, while not a water stressed site, is surrounded by a unique wetland nature reserve, 'Carrizal de Cofin'. The reserve is hometo a variety of important native bird species. Without responsible water stewardship, these wetlands run the risk of drying out and putting the local ecosystem at risk. The local government of La Rioja region saw an opportunity for restoration and enlisted the help of our Alfaro facility to help irrigate the reserve using treated wastewater from our site. Our facility produces approximately 200,000 cubic meters of wastewater per year (equivalent to 80 Olympic-sized swimming pools). We treat this wastewater to the highest of standards and return it to the environment.. This initiative transformed approximately 142 hectares of the nature reserve from dry land into a lush, green functioning resource for the local ecosystem.
Water Risk Assessment
In early 2018, we completed a water risk assessment of our global manufacturing operations. This work was completed by Antea Group, a leading global sustainability consulting firm and provider of water resource expertise to the food and beverage sector who is also certified by CDP. The assessment leveraged both WRI's (World Resources Institute) Aqueduct data and methodology along with the subject matter expertise of our consulting partner. We then evaluated our watershed conditions from a business perspective in order to validate economic scarcity factors not fully addressed by the database indicators. The completed assessment resulted in identification of physical, reputational/ social and quality water risks, as well as composite scores for each area associated in our direct manufacturing operations. In 2020, we updated our water risk assessment. Of the total 81 sites that we operated in, we completed a watershed risk assessment of 79 sites. Water use from these 79 sites derived from 66 percent municipal, 25 percent bore and nine percent surface.
After an internal expert committee evaluation, it was determined that 19 of the 79 sites evaluated had some degree of elevated water stress.. In addition to our water reduction targets, we have also developed a plan that focuses on these high-risk water areas to drive improvements and mitigate risks, and to provide updates into our risk evaluation on an ongoing basis. Moreover, we will evaluate any interim mitigation strategies as needed.