Human Rights
Kraft Heinz values all life. We have a zero-tolerance approach to human rights violations across our entire value chain.
In 2019, Kraft Heinz released a Global Human Rights Policy, which is guided by internationally recognized standards, including the United Nations Guiding Principles on Business and Human Rights, the International Bill of Human Rights and the principles set forth in the International Labor Organization's Declaration on Fundamental Principles and Rights at Work.
As part of the Global Human Rights Policy, Kraft Heinz requires all employees and related entities, suppliers and business partners to strictly adhere to our human rights standards, which, in summary:
Prohibit child and underage employment
Prohibit trafficking, forced or involuntary prison labor
Prohibit all and any forms of abuse, bribery, harassment and discrimination
Recognize and respect the rights of freedom of association and collective bargaining
Recognize and respect fair, legal and equitable work timeframes, working conditions (including health and safety) and wages
Recognize land rights, natural resources and ensure all workers' rights to clean water and adequate sanitation facilities
Require all labor recruitment and employment procedures to be carried out in a legal and ethical manner
Following the release of the Global Human Rights Policy, Kraft Heinz undertook a global human rights risk assessment with third party assistance. This exercise highlighted relative risk factors by commodity type overlaid with associated geographical risk. The evaluation also included economic and social criteria to determine points in our value chain where risk is highest, and where we could make the greatest impact. The scope of the assessment was all-encompassing – rather than only evaluating specific commodities, we assessed nearly all our ingredient food purchases. This assessment is influencing our plans to continuously develop and improve our due diligence and management programs. We began to develop plans to roll out our two prong approach, working collaboratively with our value chain toward proactive capacity building, identifying areas where we can collectively make improvements, as well as targeting specific elevated-risk procurement categories, with enforcement actions if necessary and segmentation based on:
Type of supplier (Strategic, Core or Transactional)
Risk categories and materiality
Geographic risk integrated with other risk categories
As a result of this assessment, we updated our Supplier Guiding Principles in 2021, strengthening the human rights sections, including new risk areas such as land rights, migrant workers, minimum age of employment, fair wages and ethical business practices. In addition to this, we established the ESG Due Diligence and Management Program. This program helps us monitor our supply chain for potential human rights risks and non-compliances with the help of Sedex (direct suppliers) and EcoVadis (indirect suppliers).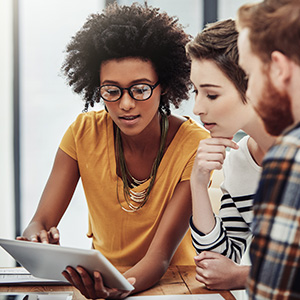 Supplier Diversity Program
The Kraft Heinz Supplier Diversity program was launched in 2021 as an important step in embedding our company values into our supplier base to better reflect the communities that we serve. Starting with the U.S., the program is intended to play a critical role in addressing systemic barriers which may stand between under-represented groups and the opportunity to be a supplier to Kraft Heinz. Kraft Heinz is committed to the fair inclusion of diverse suppliers in procurement activities and will partner with diverse suppliers that are at least 51 percent owned, operated, and managed by women, people of color, LGBTQ+ people, persons with disabilities, veterans and other recognized minorities, with a goal of tripling spend with such companies by 2025. The company will continue to partner with small businesses and those suppliers certified by the U.S. Small Business Administration's HUBZone program, which fuels small business growth in historically underutilized business zones.