Reduce waste to landfill intensity by 20% across our manufacturing facilities by 2025 (per metric ton of product made).


ON TRACK: -14.7%
Waste Reduction
At Kraft Heinz, we think about waste holistically. To source, produce and package food and beverage products requires several inputs and outputs related to ingredients and byproducts, material flows and end-of-life packaging considerations. When we think about materials and food-related flows, detailed waste evaluations help us identify where we can 'prevent, reduce, repurpose and recycle.' In fact, our global owned manufacturing sites divert more than 90 percent of our solid waste to recycling or byproducts usage.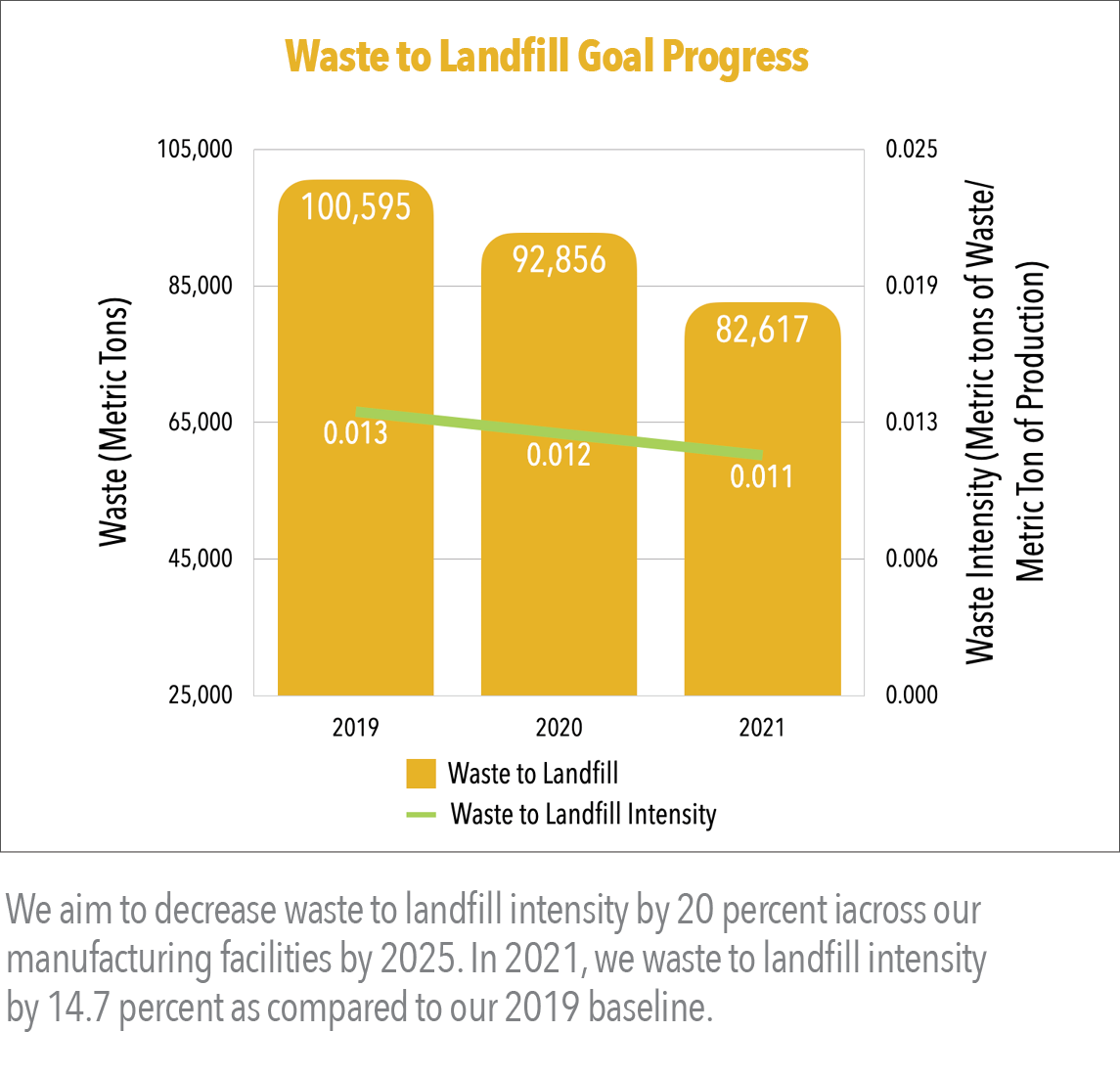 In 2021, five new Kraft Heinz manufacturing facilities achieved zero waste-to-landfill status, bringing our total to 16 facilities across the world. These new sites include Shanghai (China), Kaiping (China), Pudliszki (Poland), Yangjiang (China), Pasuruan (Indonesia) and Wagga Wagga (Australia).
Reducing Food Waste
According to the United Nations Environmental Program, it is estimated that approximately 931 million tons of food waste were generated in 2019, suggesting that 17 percent of global food production may be going to waste. Beyond this, food waste is detrimental to our environment, leading to wasted resources like energy, water and land. As our population grows, the pressure on our water, land and energy to feed all those people will only increase. It is also estimated that 8 – 10 percent of our greenhouse gases are associated with food that is not consumed1.
Therefore, when we think of food waste at Kraft Heinz, we think of it in terms of our highest priorities. We focus on the entire value chain in terms of where food waste can be reduced. This includes sourcing, production, transportation, shelf life, use and end-of- life. We analyze and test how processes, products and packaging can be optimized. We investigate where unneeded byproducts or unwanted finished products can find other uses versus going to landfill, such as beneficial land application and product donations to those in need.
For example, our Mount Royal facility in Canada has implemented new segregation of organic waste initiatives on the production line. We send organic waste to an anaerobic digester cell and, in 2021, have succeeded in diverting approximately 600 tons of organic waste.
Kraft Heinz has joined together with industry peers to eliminate food waste globally. Kraft Heinz Canada and Kraft Heinz United Kingdom both joined national commitments to reduce food waste.
U.K.: In the U.K., Kraft Heinz is a member of the Food Waste Reduction Roadmap (FWRR) initiative. Hundreds of food-related organizations have committed to supporting this initiative, which aims to reduce food waste in the U.K. by 50 percent by 2030. The initiative is run by IGD (a food research and training organization) and WRAP (a nonprofit focused on sustainability) to verify data and encourage best practices. Kraft Heinz committed to setting a target for food waste reduction across our own operations towards the broader goal, and to also work in partnership with suppliers and consumers to that end. WRAP committed to report results in 2019, 2022, 2026 and issue a final report in 2031 against the 50 percent reduction goal.
Canada: In Canada, Kraft Heinz has joined seven other companies in a pledge to reduce food waste in operations by 50 percent by 2025. In 2021, we reduced waste by 25 percent as compared to 2017. Kraft Heinz will use the globally recognized Food Loss and Waste Accounting and Reporting Standard to report our progress. Kraft Heinz Canada is also a member of Loblaw's 10x20x30 Initiative, a key effort of the Consumer Goods Forum's global Food Waste Coalition of Action.
1 UNEP Food Waste Index Report 2021 https://www.unep.org/resources/report/unep-food-waste-index-report-2021