Supplier Guiding Principles
At Kraft Heinz, we recognize our suppliers as partners and want to bring them to the table to advance the sustainability agenda. Our Supplier Guiding Principles (SGPs), which we strengthened in August 2021, apply to our upstream supply chain and clearly define both our minimum requirements, as well as our aspirational destinations, for the conduct and sustainable operation of our supplier network.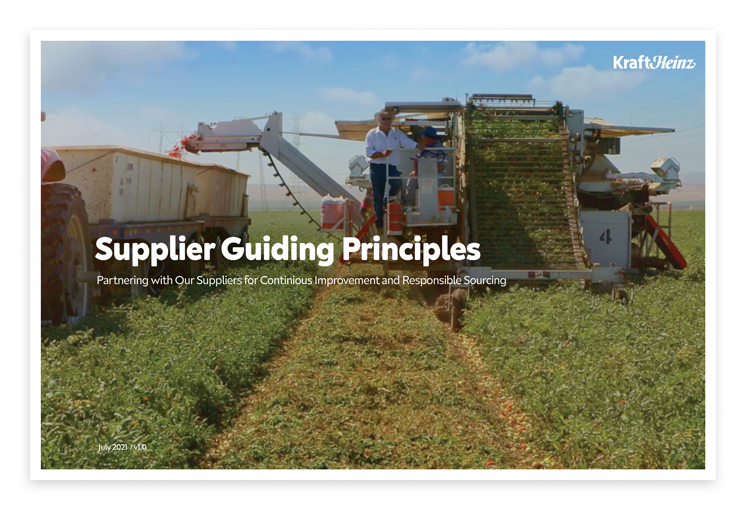 Our SGPs are more robust than ever before. The Principles will help us to drive sustainable growth within the organization, mitigate risk and bring value to an array of important stakeholders, while we ensure that we are all doing our parts to create a better, more just world. These principles continue to be included in our standard contract language and are publicly available in 26 languages through our supplier hub.
Our SGPs were developed using industry best practices and internationally recognized standards, including the United Nations Guiding Principles on Business and Human Rights, the International Bill of Human Rights, and the principles set forth in the International Labor Organization's (ILO) Declaration on Fundamental Principles and Rights at Work. In 2021, Kraft Heinz also launched a supplier facing version of its Ownerversity e-learning platform which includes supplier-specific training on the new SGPs. This training is a foundational resource in developing existing suppliers and onboarding new suppliers into the Kraft Heinz ecosystem. The training is available in 6 languages.
Due Diligence Program
Our supply chain spans globally and touches the lives of communities around the world. It is our responsibility to make sure the impact of our operations remains a positive one. We take a risk-based approach to Due Diligence aligned with the UN Guiding Principles. This model complements our SGPs and defines how and when risk will be monitored, assessed, and managed. Compliance to our ESG due diligence program, including our right to audit, is a contractual obligation for Kraft Heinz suppliers globally.
We continue to assess risk levels for our key sourcing categories and will continue to increase our audit capabilities and scope over the next few years. Progress on this program will be covered in future reports.
In 2021, Kraft Heinz joined as a member of Sedex and EcoVadis in an effort to align its supplier ESG requirements with industry standards and recognize existing supplier efforts to manage ESG risks. We value impact- driven action and are actively developing our Responsible Sourcing program in a way that harmonizes supplier requirements and reduces administrative burdens on our suppliers – allowing our teams to focus resources on driving ESG improvements in areas that need it most.