Healthy Living Recipes
As part of our continuous efforts to support the needs of today's consumers to prepare, serve and enjoy delicious snacks and meals, our culinary teams are developing new and innovative recipes. Our internal dietitians and nutritionists have established criteria to help consumers identify recipes which fit within relevant guidelines for healthy eating.
United States: We relaunched our recipe website My Food and Family, formerly known as Kraft Recipes in March 2019. The new site offers busy consumers shoppable recipes and lifestyle content to take advantage of Kraft Heinz's broad portfolio of brands and products. We plan to continue expanding this library of on-trend recipes, time-saving kitchen tips and tricks, and partnerships with unique voices across the culinary world. Our Healthy Living recipe collection features recipes that meet nutritional guidelines established by our registered dietitians. We have committed to no less than 20 percent of our recipes being Healthy Living, with 24 percent currently meeting these guidelines.
Europe: The Kraft Heinz Nutrition Recipe Guidelines provide guidance in developing nutritious and balanced meals using Kraft Heinz products, while minimizing less desirable ingredients and promoting responsible portion sizes.
Canada: Kraft's What's Cooking website offers a personalized experience, allowing consumers to find recipes tailored to their specific lifestyle, nutrition and dietary needs. With a vast array of over 13,000 recipes, detailed lifestyle articles, how-to videos and healthy living content, Kraft's What's Cooking is committed to keeping Canadians up to date on credible, useful food content aligned with current trends.
New Zealand: Our Wattie's Food in a Minute recipe collection provides consumers with an extensive and growing range of quick meal recipe options and tips across a variety of diet preferences. These recipes and tips span plant-based, vegetarian, vegan and many other lifestyle choices, such as Healthy Pick. Our Healthy Pick recipes meet our guidelines for saturated fat, sugar, sodium and vegetable portions.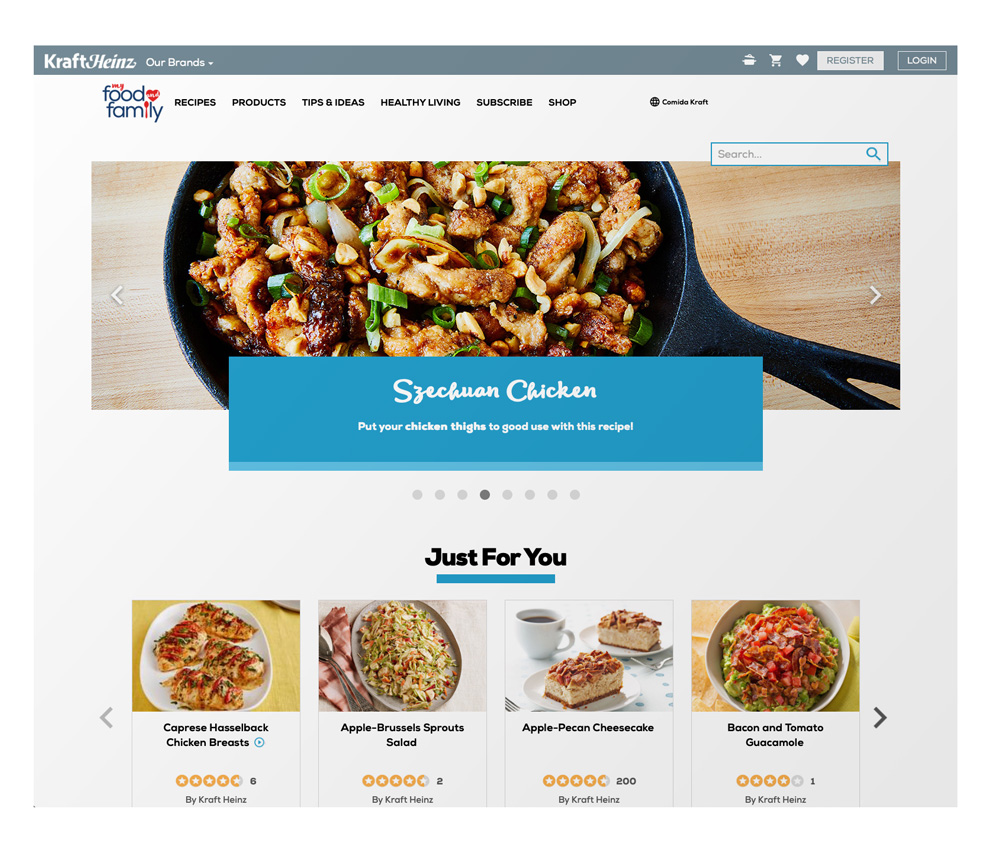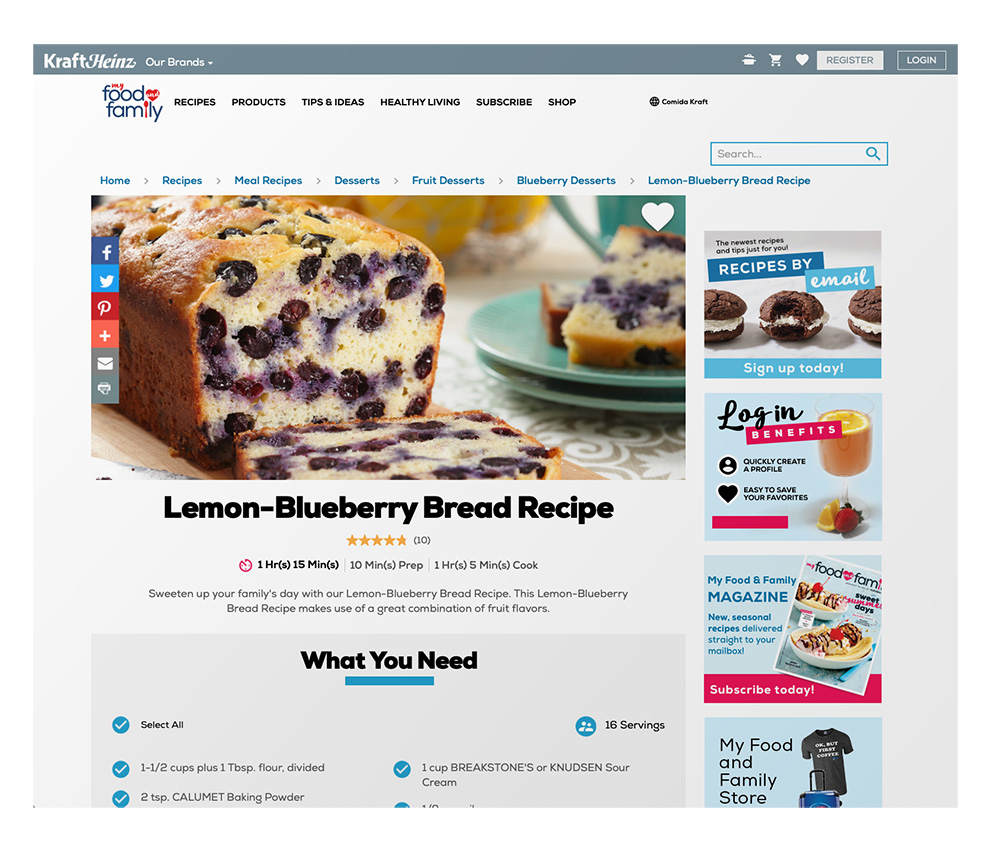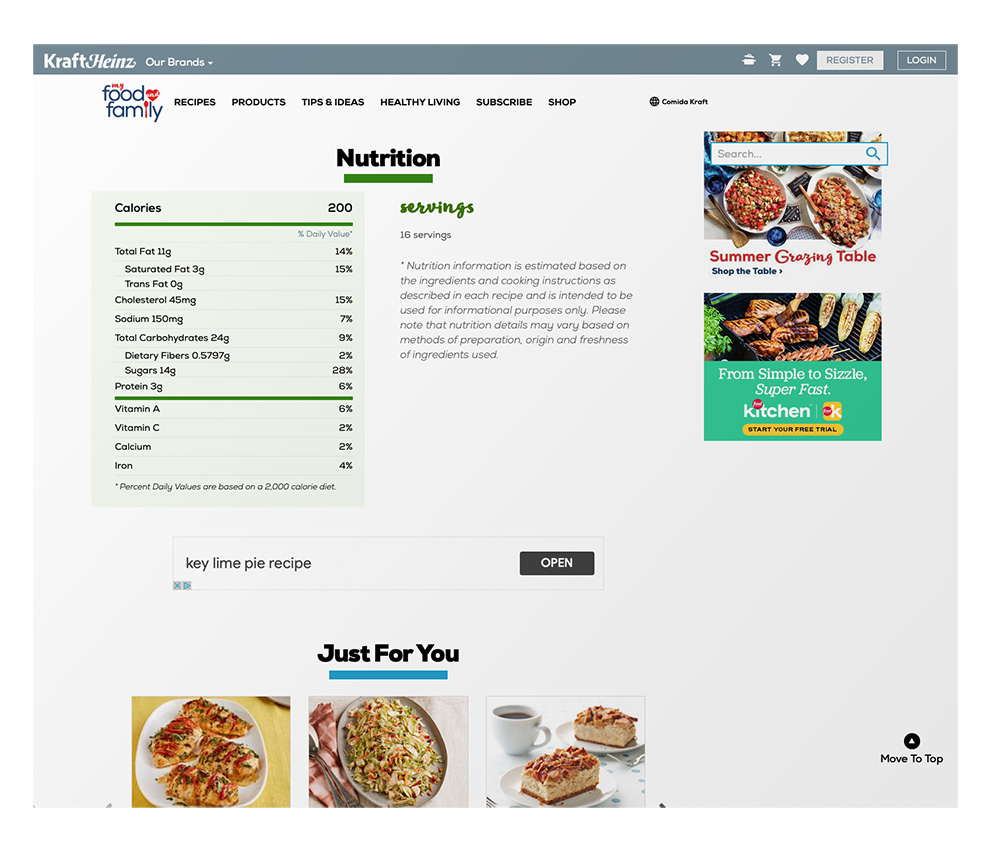 Nutrition & Quality
Nutrition Research and Education
Through ongoing research partnerships with Italian researchers, additional research was published in 2020 in the journal Nature regarding the emerging field of postbiotics. This study, entitled "Analysis of immune, microbiota and metabolome maturation in infants in a clinical trial of Lactobacillus paracasei CBA L74-fermented formula," demonstrated that a fermented infant formula favors the maturation of the immune system, microbiome and metabalome.
Bioengineering (BE) Position
Providing our consumers and their families with quality, great-tasting, safe products in a transparent and socially responsible way is and will always be our highest priority. Although the safety of genetically modified (GM) ingredients or bioengineering (BE) has been affirmed by virtually every major scientific authority worldwide, we know some consumers may have questions about this technology. We respect their desire to know more about the foods they eat.
We believe BE technology can help increase the food supply, keep costs affordable, and decrease the use of pesticides, water and overall production costs. In fact, several types of bioengineered food such as soy, corn and beet sugar are currently being cultivated and exported worldwide. These crops are used to make a wide variety of food and beverage ingredients and are not typically segregated from food made without BE.
We adhere to the following global principles with respect to bioengineered ingredients:
We abide by all laws governing the use and/or labeling of bioengineered ingredients.
In many cases, we offer options without bioengineered ingredients.
We will partner with external organizations to certify our "non-BE" claims for key ingredients where appropriate.