Employee Health & Wellness
We are committed to supporting and inspiring a lifestyle of well-being for our employees in and out of the workplace. We aim to provide equitable benefits coverage through affordable core plans of healthcare, protection, and future savings complemented by local benefits to address market trends and cultural nuances and access to additional plans tailored to meet individual needs and promote diversity, equity, and inclusion.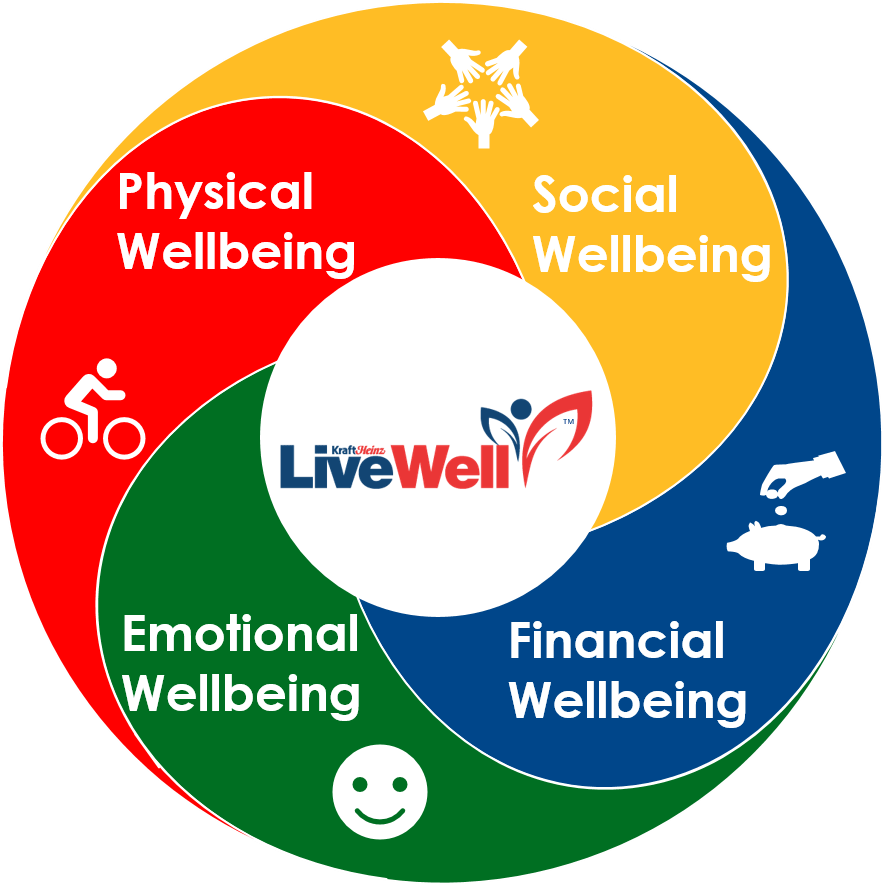 LiveWell at Kraft Heinz amplifies our commitment to help employees achieve optimal well-being physically, emotionally, socially, and financially. Throughout the year, we raise awareness of health and well-being topics through speaker series, global and local events and targeted initiatives on physical fitness, nutrition, mental health, family and community, and financial education. In 2022, we partnered with our Nutrition team to introduce The Nutrition Nugget. This feature encourages our employees to "Eat Well, Be Well and LiveWell." Information shared from the Nutrition2Nourish curriculum's aim is to continue building and strengthening nutrition knowledge during our transformation journey to 'DELIGHT consumers with a BALANCED and TRUSTED portfolio by delivering nutritious options and supporting HEALTHFUL LIVING'.
Our global LiveWell hub and complementary local LiveWell sites provide employees easy access to external resources and internal programs available in their local country. In 2022, we expanded our education reach via our learning platform, Ownerversity. This additional touchpoint helps employees navigate the elements of Total Rewards, including compensation, benefits, and recognition designed to provide a spectrum of programs that support our diverse workforce and their families.
Since 2021, we have been conducting employee total rewards and well-being surveys plus industry and peer benchmark studies to assess whether our offerings are market competitive and if they meet the needs of our employees and their families. Opportunity areas are then actioned based on the benchmark data and employee feedback. Our LiveWell expos were reignited post-pandemic to provide employees the opportunity to learn about their local benefit plans directly from vendors and members of the benefit teams to make the best choice during the annual enrollment periods.
In 2022, we made further enhancements to parental benefits and expanded paid parental leave for primary and secondary caregivers, including adoptive parents, surrogate situations, and same sex couples (where legally allowed), and expanded support for pregnancy loss to additional countries. Where relevant, we provide employees with paid time off for breastfeeding and we have dedicated nursing rooms in some locations.
At Kraft Heinz, we operate with empathy and care by supporting our people with the resources and tools to help them live well. Our Mental Health framework is a key part of this commitment and aims to create an open culture on this topic. Our Mental Health First Aiders (MHFA) program includes over 225 cross-functional trained colleagues. In addition to ongoing training, the MHFAs are identified in email signatures, lapel pins, and listed on the LiveWell hubs. We also provide Employee Assistance Programs (EAP) in 31 countries for confidential life event services ranging from personal, family, and work-related services provided by specialists for our employees and their families when needed.