Focusing on Material ESG Issues
ESG Materiality and Stakeholder Engagement
To inform and continuously improve upon our ESG strategy, we engage a wide variety of stakeholders for input. Participating in an ongoing, two-way dialogue with our stakeholders strengthens our understanding of important environmental, social and governance issues, which helps us set associated priorities to make respective impacts.
Our global stakeholder network includes both the internal and external people and parties whose support is critical to the long-term success of our business, or who are materially impacted by our business operations. The table below lists these groups and summarizes our engagement activities with them.

ESG Materiality Assessment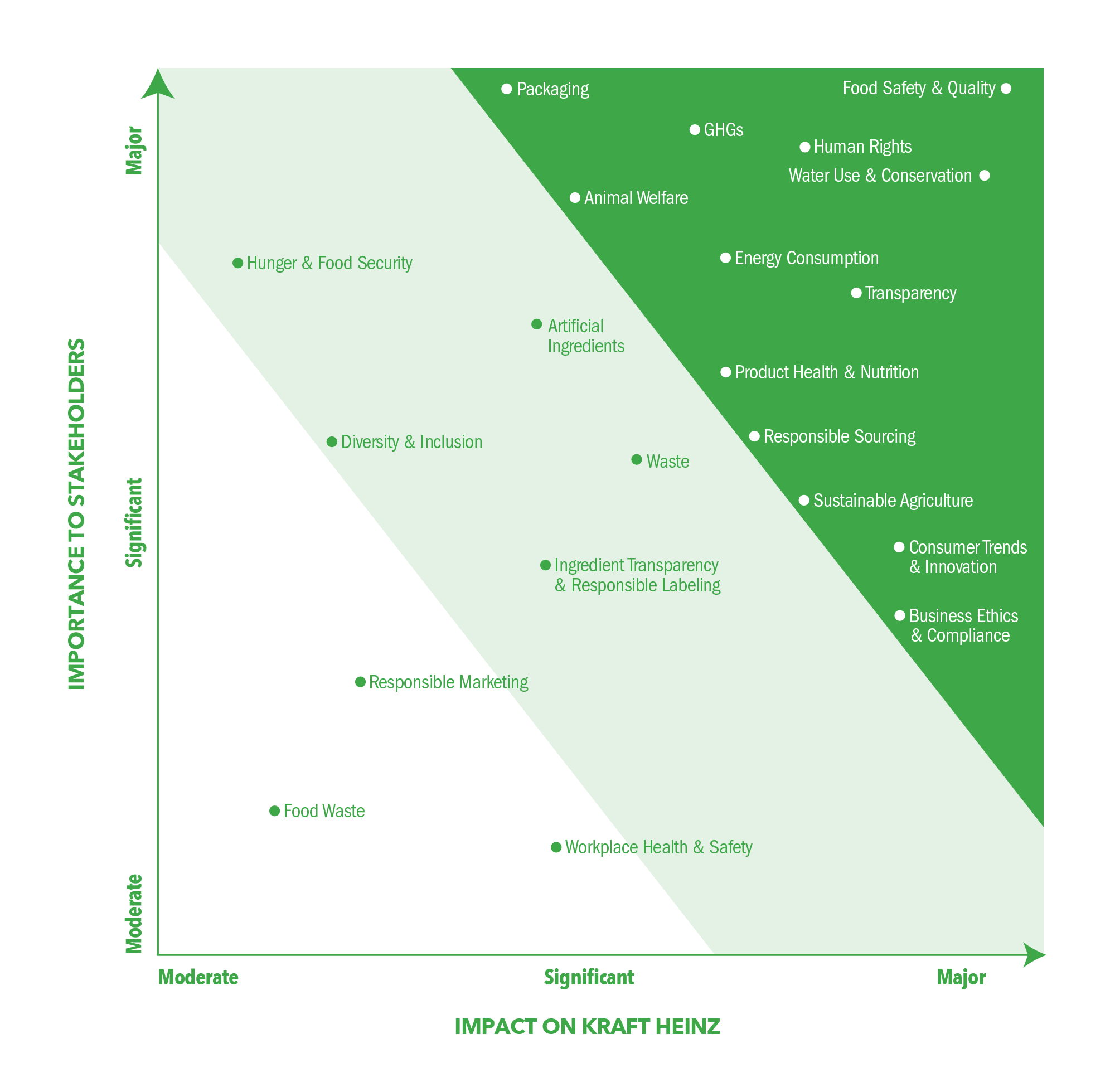 To inform our ESG strategy and goal-setting, Kraft Heinz conducts a comprehensive ESG materiality assessment every three to five years, with respective smaller interim updates as appropriate. This assessment allows us to identify and prioritize the environmental, social and governance issues that are of greatest concern to our stakeholders and which impact the success of our business. We reevaluate these results on an ongoing basis to reflect any changes in standing on these priority issues and allow for the inclusion of new or emerging issues.
We treat our ESG materiality matrix as a living assessment based on participant input. We continue to evaluate ESG material issues to our key stakeholders and the respective impact on our business operations across dynamic global markets.
Our ESG materiality matrix depicts the outcomes of the following assessments:
2016: We developed our first ESG materiality assessment as a new company.
2019: We added several issues to reflect their rising importance to our stakeholders and potential business impacts, including Consumer Trends and Innovation, Food Waste, Diversity and Inclusion, and Ingredient Transparency and Responsible Labeling.
2020: As a result of additional engagement with key business partners and employees, we adjusted the weight of "Human Rights" materiality, as well as separated out "Sustainable Sourcing/Agriculture," adjusted the nomenclature to more accurately reflect the area of impact for Kraft Heinz, and weighted accordingly, into the two distinct areas of "Responsible Sourcing" and "Sustainable Agriculture." We also adopted the nomenclature of Environmental Social Governance (ESG) as the overarching framework for the Kraft Heinz sustainability platform.
We remain committed to corporate responsibility and providing value to our stakeholders. We believe our ESG guiding framework further demonstrates our commitment to corporate responsibility, while highlighting the importance of continuous improvement and transparency in these efforts. We continue to work on enhancing our risk-based and financial disclosures on these ESG topics.
Enterprise Risk Management
Kraft Heinz has an established, comprehensive approach to Enterprise Risk Management (ERM). Annually, senior management evaluates changes and required updates to the top enterprise risks. The ERM process covers a broad spectrum of risks across several dimensions: strategic, financial, operational, legal & regulatory, human capital, and hazard/catastrophic. Senior management prioritizes the risks and develops the Kraft Heinz risk profile, which is shared with the Audit Committee of the Board of Directors annually. Each risk owner provides regular updates to the Audit Committee of the Board of Directors.